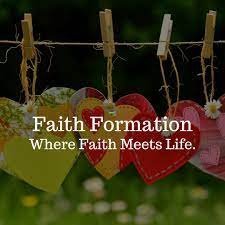 As Lent is underway, I think back on my life last year. I had never really had a truly meaningful Lent in all my years, but something was different last year. I decided to fast from having dessert with my family after dinner each night. This was difficult for me to sit and watch everyone else eat, but sometimes I had a coffee and sometimes I did something else while they were eating. After the first week, it became easier because I developed a habit of of not eating that dessert. I wasn't perfect because if I went out somewhere, I would have dessert with friends and family, but the next day I would go right back to not having dessert. The Lord meets us where we are, and He didn't just forgive me, but was happy I didn't just forget about it and return to eating dessert. This is an important lesson for children. First of all, help them fast from something that wouldn't be too difficult that they can't maintain it. Giving up dessert completely would be too challenging for a child. Maybe giving up chocolate chip cookies would be easier. If your child doesn't stick with it, encourage him/her to start over every time he/she fails. God always wants us back. Lent is an important time to give up good things to make our self good. At the end of Lent, think how proud your child will be that they went the whole Lent fasting from something he/she enjoys! Explain how brings him/her closer to God.
Another way I made last year a great Lent for me was through almsgiving. Whatever dessert I didn't eat, I estimated the cost and gave that money to the Circle of Compassion. Your children have those Lamb of God boxes so either help them estimate the cost what he/she has sacrificed, or have your children do chores to earn money for the box. All money will go to the Circle of Compassion to help the needy receive Easter dinners.
I also attended events in the parish and spent more time in prayer. I encourage you to pray as a family, especially before meals. Teach your children to have conversations with Jesus. If you can, bring them to an event like Stations of the Cross.
It may seem like an uphill battle, but whatever you do with your children during Lent will make a huge impact on how your children develop a relationship with the Lord that will last the rest of their lives. I plan on continuing where I left off last year, and following a plan that will make me have another meaningful Lent. It's not easy, and I know I will face challenges, but it will be worth it in the end.
Finally, I have to encourage everyone to go to confession during Lent. We will have the children go in class, but I am plan on going to confession, and I hope all of our parents make it to confession. We have it every Saturday at 4:00PM and Sunday after the 9:30AM Mass. I also hope I see parents at the workshop we holding on March 7 on prayer and reflection. It will be like a mini retreat that will help on your own Lenten journeys.

Mrs. Michetti